Welcome
HOLLY TOUR of Holiday Homes
Sunday, December 7, 1 – 4PM
The Dryden Town Historical Society is proud to announce the 2014 Holly Tour featuring five fabulous houses decorated for the holidays.
The Holly Tour will be held on Sunday, December 7th, from 1 PM to 4 PM with a reception to follow from 4 to 5:00 PM in the Fellowship Hall of the First Presbyterian Church, 6 North Street, in Dryden.
Tickets for this event are $10 per person (no children please) and are available at the following locations:  Back to Basics, Dryden Village Offices, Dryden Wine and Spirits, Dryden Agway, and the Southworth Homestead history center on Saturdays from 10 AM to 1 PM.  They will also be available the day of the Tour at the houses.
For more information contact:  Joan Torello (607) 844-8156 or Betsy Cleveland (607) 227-1627.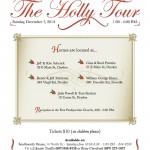 HOLIDAY WORKSHOP
Saturday, December 6, 10am – 1pm
Southworth Homestead
 This year's special Holiday Workshop will be held in the newly created activity space in the east wing of the Southworth Homestead.  Visitors of all ages will be given the materials and instruction to create their own traditional "straw" ornament.  All supplies will be provided free of charge.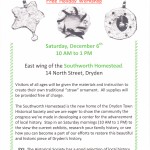 ANTIQUE DRYDEN QUILT FUNDRAISER
Lettie Burch antique quilt Fundraiser.  This lovely antique quilt made by Lettie Burch more than 100 years ago was donated by Joan Watros.
Donation Tickets are $5.00 each or 3 tickets for $10.00.  The drawing will be December 13th.  Tickets can be purchased at the Homestead Harvest Festival and on Saturdays at the Southworth House.
All proceeds benefit the Southworth Homestead.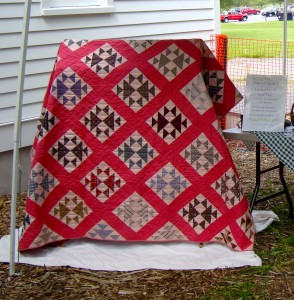 —————————————————————————————————————————–
Welcome to the Dryden Town Historical Society. We are located in the village of Dryden, at 14 North Street, 10 miles from both Ithaca and Cortland.
We have new programs and exhibits monthly. Please stop in and chat with our staff and docents, and enjoy this wonderful opportunity to learn about the history of Dryden.
For a future DTHS program on Memorable Characters in the Town of Dryden, we would like to include, Florence Montgomery Southworth, John H Southworth, and Rebecca Southworth Simpson.  If you have stories or memories to add, please let the program committee know.

Address
14 North Street
P.O. Box 69
Dryden, NY 13053
Contact
607-844-9209
drydennyhistory@gmail.com
Hours
Saturday, 10am - 1pm
Or by appointment

drawing by Cynthia Cantu
Mailing List
Send an email to drydennyhistory@gmail.com to be kept informed of upcoming events.