Welcome
Southworth Homestead
Heritage Festival
September 24 Saturday, 10 am – 3 pm
14 North Street, Dryden  
CALL FOR QUILTS!
Something exciting is being added to Homestead Heritage Day this year.   In addition to quilting demonstrations, we invite folks to bring their local quilts or family quilts or special quilts to display and learn more about.   Nancy Ostman, Tompkins County quilt researcher, will be on hand to talk about family quilts.    A signature quilt and the 1997 Bicentennial Quilt from DTHS historical collection will be on display in the Exhibit Room.  A "Butterflies" family quilt from the 1920s will be among the many local quilts on view.
The day will be filled with activities for all ages.   The "Fingerlakers Good Tyme Band" will be making music from noon to 3 pm, and for fun, the band invites everyone to try participating with rhythm instruments.  There will be kid's games, heritage craft demonstrations, including quilting, hand spinning, lace making, chair caning, blacksmithing and more.   Dryden Community Cafe will have food for sale.
The Southworth House will be open for tours at 11 am, 12 noon, 1 pm and 2 pm.  The Donation for the historic house tour is $5.
Annual DTHS Pie Sale
Saturday, November 5, 9am – gone (and they go early!)
1st Natl. Bank of Dryden
Fresh baked pies and breads.
All members are encouraged to donate their specialty, be it a pie, a loaf of bread, or the baked treat of their choice.  Bring your donation to the bank as early as possible and, while you're there, buy something tasty to take home with you.
For more information or to arrange for your donation to be picked up, please call Shirley Price (844-8700) or Mary Hornbuckle (898-3461).
Holiday Work Shop
December 3, Saturday 10 am – 1 pm  
Dryden Town Historical Society Activity Room, 14 North Street, Dryden
Make an interesting and unique Holiday Ornament.  All supplies are furnished.
Free and Open to all
Holly Tour
Sunday, December 4, 1pm – 4pm 
Visit historic Dryden homes decorated for the holiday. Reception after.
Tickets $10.00
Quilt Raffle
9′ x 9′ AMISH QUILT      (FITS HIGH QUEEN OR KING BED)
Tickets ~ $5.00 each, or 3 for $10.00
Proceeds benefit Southworth Homestead
Drawing: December 3, 2016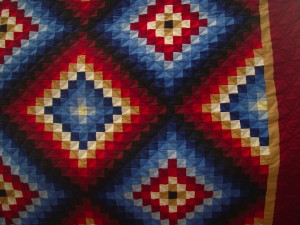 —————————————————————————————————————————–
Welcome to the Dryden Town Historical Society. We are located in the village of Dryden, at 14 North Street, 10 miles from both Ithaca and Cortland.
We have new programs and exhibits monthly. Please stop in and chat with our staff and docents, and enjoy this wonderful opportunity to learn about the history of Dryden.
For a future DTHS program on Memorable Characters in the Town of Dryden, we would like to include, Florence Montgomery Southworth, John H Southworth, and Rebecca Southworth Simpson.  If you have stories or memories to add, please let the program committee know.

Address
14 North Street
P.O. Box 69
Dryden, NY 13053
Contact
607-844-9209
drydennyhistory@gmail.com
Hours
Saturday, 10am - 1pm
Or by appointment

drawing by Cynthia Cantu
Mailing List
Send an email to drydennyhistory@gmail.com to be kept informed of upcoming events.