Welcome
HERITAGE DAY FESTIVAL 2015
           Saturday, September 19, 10am – 4pm
           Southworth Homestead
Come celebrate Dryden Town heritage at our 3rd Annual Heritage Day Festival.  There will be wonderful activities, demonstrations, music
and food all day long! Major sponsorship of this event is provided by the Town of Dryden AND Dryden Mutual Insurance Co.
We have Jimmy Decker Band playing bluegrass music, food from the Dryden Community Center Café, kids games, and demonstrations of all sorts of skills and crafts like sheep shearing, Blacksheep Handspinners, R Townley spinning wheel, Finger Lakes Lace Guild, chair caning, quilters, and knitting, to  name a few.
There will also be guided Southworth House tours that day at 11am, 12 noon, 1pm, and 2pm.
September 19, 11am, 12 noon, 1pm, and 2pm
Final Tour of the season – October 3, 10 am, 11 am, 12 noon
With the gift of the Southworth house came many treasures.   This year, we can look forward to seeing more unique objects that were used by the family over the decades.  Beautiful hair combs, interesting playing cards, and family photographs are some of the treasures we'll see this year.
HOMESTEAD PANCAKE BREAKFAST FUNDRAISER
Sunday, October 18, 7am – 10am
Dryden Fire Hall
We will have Chef, Peter Zon, from Benn Conger Inn in Groton join us in a pancake breakfast to support the DTHS.  Yummy pancakes, sausage, bacon, juice, and of course, coffee!
We can always use volunteers.  Please contact Betsy Cleveland at 607-227-1621.
Saturday, November 7, 9:00am – gone (and they go early!)
1st National Bank of Dryden, Main Street
Fresh baked pies and breads.
2015 SOUTHWORTH HOUSE GALA
Saturday, December 5, 6pm – 9pm
An evening of holiday celebration with fine food, wine, live music, special raffles, and holiday decorations. All in support of the preservation of the Southworth Homestead, 14 North Street, Dryden.  The entire $60 per person ticket fee will go towards the effort because of generous donors.  Invite your friends. Be sure to make your reservation by sending your check to the DTHS, PO Box 69, Dryden, NY, 13053.  Or contact Bob Jacobson, 844-9189, Betsy Cleveland at 844-5334 or drbobjacobson@gmail.com.
2015 RAFFLE TO BENEFIT THE SOUTHWORTH HOMESTEAD, Drawing on December 5
This year there are two items in the Benefit Raffle.  Buy a ticket and take a chance on either an antique quilt or a framed copy of a locally famous photograph.  Tickets are $5.00 each or 3 for $10.00.  Each ticket is a chance to win either the quilt or photograph.
The colorful pieced and tied quilt is signed C J Knettles, 1891, donated by Gina Prentiss.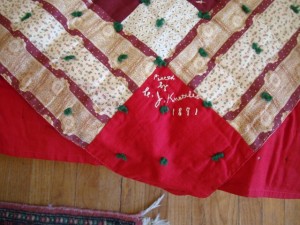 The photograph shows Dryden Lake and many surrounding farms.  Ross Sherman took the photo from Carpenter Hill in 1955.  It was Hand tinted by Mildred Sherman. This framed copy was donated by Bob Watros.

—————————————————————————————————————————–
Welcome to the Dryden Town Historical Society. We are located in the village of Dryden, at 14 North Street, 10 miles from both Ithaca and Cortland.
We have new programs and exhibits monthly. Please stop in and chat with our staff and docents, and enjoy this wonderful opportunity to learn about the history of Dryden.
For a future DTHS program on Memorable Characters in the Town of Dryden, we would like to include, Florence Montgomery Southworth, John H Southworth, and Rebecca Southworth Simpson.  If you have stories or memories to add, please let the program committee know.

Address
14 North Street
P.O. Box 69
Dryden, NY 13053
Contact
607-844-9209
drydennyhistory@gmail.com
Hours
Saturday, 10am - 1pm
Or by appointment

drawing by Cynthia Cantu
Mailing List
Send an email to drydennyhistory@gmail.com to be kept informed of upcoming events.